---

September Openings:

1st and 3rd Friday Openings at participating galleries

Month of September:
Saks Galleries Cherry Creek
Current works and exhibits with gallery artists

Visions West Contemporary
Wild and Precious, Rachel Denny solo exhibition

Friday, September 8
William Havu Gallery
Opening Reception, 5-8pm
From All Angles: 50th Anniversary Exhibition with over 50 artists.
Through October 21

Walker Fine Art
Opening, 5-8pm
Internal Mapping with artists: Heather Patterson Blair, Vaughn Gruler, Deidre Adams, Ren Cannon, Farida Hughes and Jonathan Hils.
Through November 4

Space Gallery
Opening reception, 6-8 pm.
Space Annex, 95 S. Cherokee St.
Featuring works by local artists: Carlene Frances, Wendy Kowynia, Sue Oehme, Taiko Chandler, Gabrielle Shannon, Judy Campbell, Lynn Heitler, David Marshall, Jeff Wenzel, Nancy Koenigsberg, Patricia Aaron, Susan M. Gibbons, Mark Lunning and Haze Diedrich.
Through November 11

Space Gallery
Exhibition opening, no artist's reception
Saturday, October 7
Artist's reception, 3-5pm with an artist walk through at 3:30pm

Thursday, September 14
William Havu Gallery
Opening Reception: 6-9 PM
Emilio Lobato is a Colorado artist. Born and raised in San Pablo, a village 7 miles from San Luis, the oldest town in Colorado. Of Spanish Colonial ancestry, Lobato is the 16th generation of his father's family in the U.S. In 1982 he earned. B.A. degree in Art from Colorado College, where he studied with printmaker and painter, Mary Chenoweth and sculptor, Carl Reed. In 1986 Lobato guest curated a Day of the Dead Mexican folk art exhibit for the Denver Art Museum as part of a NEH internship completed there. From 1989 to 1992 Lobato worked as Education Administrator in the Education Department at the Denver Art Museum. Since 1992 Lobato has been pursuing his studio practice full time. Additionally he has guest curated exhibitions for the Mizel Museum of Judaica, the Denver Arts Students League, and the Boulder Museum of Contemporary Art. In 2011 Lobato was the subject of a solo exhibition at the Colorado Springs Fine Arts Center, titled "Mi Linda Soledad" (My Beautiful Solitude) Lobato's work has been represented in galleries nationally, and is included in countless private and public collections nationally and internationally. Lobato has lived and worked in Denver since 1985. RSVP here

"Bill Havu is celebrating fifty years on the Colorado art scene. He's been on a five-decade trajectory that has taken him from a humble Aspen frame shop to a swank Denver gallery. For the past half-century, William Havu—known as Bill Havu to everyone—has emphatically made his presence known in Colorado's art world. This longevity is, on its surface, a remarkable accomplishment by itself. But digging deeper, and taking into account the vagaries of the art business, his durable success is even more amazing than it seems. Art is subject to radical and sudden shifts in taste, not only in terms of style, but right down to preferred medium at any given moment. Not to forget, there's the problems common to all small businesses—relentlessly rising expenses along with the ups and downs of the larger economy. Bill must have had ice water in his veins to have not just survived, but to have flourished through it all."
Michael Paglia Art and Architecture Writer
Through November 12

Friday, September 22
Visions West Contemporary
Opening reception, 6 - 8 pm
Wild and Precious, a solo exhibition from the multimedia artist and sculptor Rachel Denny. The title of the show takes its inspiration from the writer Mary Oliver. Oliver's poem The Summer Day, which deals with nature and morality, sometimes finds itself on repeat in Denny's head. In the final line of the poem Oliver writes "Tell me, what is it you plan to do with your one wild and precious life?" Denny works and lives outside of Portland, Oregon where she creates nature and animal inspired artwork, most of which consists of taxidermy forms that have been transformed through fabric and embellishments she overlays them with. Denny's choice of medium has adapted and changed over the years, dependent upon the project and access to resources. Sourcing from upcycled materials that come from thrift stores, estate sales or kind gifts from friends. Texture and color are her palette, and this palette resides in a large storage cabinet where she hunts for materials for each animal figure.
Through November 4

Abend Gallery
Opening Reception:, 6-8 pm with artist's talk, 7pm
Robin Hextrum's Animal Kingdom, a world where animals ascend to the throne, both an homage to our fellow creatures and a commentary on human impact. From regal portraits of majestic animals to satirical narratives, this series challenges our perspectives and celebrates the charm, anger, and essence of the animal kingdom.
Through October 11

Saturday, September 23
Abend Gallery
Collector Preview available now
"Familiar Beasts," Gina Matarazzo Solo Exhibition. This is Gina's second solo exhibition and we're thrilled to offer you an exclusive online preview of her captivating "Familiar Beasts" collection. Dive in today and ensure you don't miss out on securing a piece from this extraordinary showcase.
Through October 14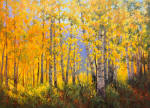 Saks Galleries Cherry Creek
Cheryl St. John
Backlit Glow
Oil on canvas, 33 x 45 inches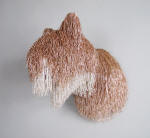 Visions West Contemporary
Rachel Denny
Shapeshifter (Mountain Lion) Polyurethane foam, wood, clay, glass beads, thread, 19 x 13 x 15 inches




William Havu Gallery
Amy Metier
Beehive, 2023
Mixed media on panel, 54 X 48 in.
Through October 21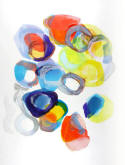 Walker Fine Art
Through November 4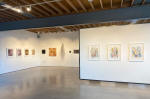 Space Gallery
Annex
Through November 11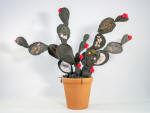 Space Gallery
Margarita Cabrera
Space Inbetween - Nopal (Amanda Hinojosa)S, 2022
Border Patrol uniform fabric, copper wire, thread, and terra cotta pot,
47 x 54 x 15 in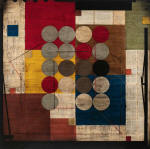 William Havu Gallery
Emilio Lobato
Tratando De Recordar, 2007
Oil & collage on panel, 72 X 72 inches




Visions West Contemporary
Rachel Denny
King of the Hill, 2023
wood, clay, aluminum, fiber, nails, thread, 42 x 39 x 10.5 inches
Through November 4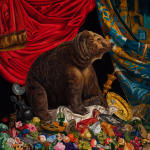 Abend Gallery
Robin Hextrum
Through October 11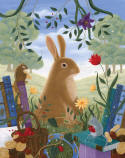 Abend Gallery
Gina Matarazzo
The Secret Meeting, 2023
Oil on gessoboard panel, 14 x 11 x 1.50 inches
Through October 14

Member Galleries:
---
Abend Gallery
David B. Smith Gallery
David Cook Fine Art
Gallery 1261
GALLERY M
K Contemporary
Michael Warren Contemporary
Plinth Gallery
Plus Gallery
Robischon Gallery
Rule Gallery
Saks Galleries
Sandra Phillips Gallery
Space Gallery
Visions West Contemporary
Walker Fine Art
William Havu Gallery
William Matthews

---