---

June openings:

Friday, May 6 and 20
1st and 3rd Friday Openings at participating galleries

Month of May:
Gallery M
Albert Watson
Snoop Dogg, 1992

Saks Galleries Cherry Creek
Current works and exhibits with gallery artists

Wednesday, June 1
Visions West Contemporary
Theodore Waddell, solo show of new works. Waddell's depictions of the vast landscape, horses, and cattle are not typical of most Western art due to the influence of the abstract expressionist movement on his practice. Waddell's solo exhibition will include the monumental painting Vincent's Angus #4, 1995, as well as works on paper and recent oil paintings.
Through July 9

Abend Gallery
Austin Howlett solo exhibition. "Six years ago, I coined the term "Terra Human" as a name for my newly emerging series of paintings depicting humans seamlessly merged with nature. I began this series to explore human emotions through their connection with nature.... The complexity of the human spirit, at times, needs the support of its natural surroundings in order to find balance and peace. My paintings ask viewers to do the terrifying work of addressing our deepest emotions so that we can better understand ourselves and shift our outlook on the world to a more empathetic viewpoint." View the exhibit online
Through July 1

Friday, June 3
Space Gallery
Artist Reception, 6-9pm
New works by Michael Hedges and Karine Leger. Hedges: "My paintings are a synthesis of color, line, form and texture. They begin as a problem of two or more color relationships to be explored through form. The form is loosely defined by a drawing that acts as a skeleton and ecto-skeleton both beneath and above the finished work. The application of the media to the painting surface is of utmost importance to me." Leger: Deeply connected to her personal life, superimposed layers of images and transparent acrylics has its own story to tell. The shapes seem anthropomorphic at times, reflecting that constant desire for balance. But they only reveal just enough, allowing plenty of room for the viewers to find their own interpretation or story.
Through August 20

Plinth Gallery
New works by ceramic artist Lauren Owens. Since geometry has been part of every civilization to define spatial reasoning, it was the pervasive use in modern design that peaked Owens' interest. The angles, lines, and shapes matched with chromatic colors of the mid-century was her Ah-Ha moment. "I design useful objects that embrace the repetitions of form with clean lines and crisp angles. I make my own models and molds and I slip cast the pieces using a cone 6 white ware clay body pigmented with ceramic stains."
Through July 30

Wednesday, June 8
Abend Gallery
A collector preview of Calvin Lai's upcoming solo exhibition. All works are available online for purchase now. Artist Statement: "I was born an all-or-nothing kind of guy, and though I've learned the nuance of grey areas I'm still fascinated with extremes. Perhaps it's this that causes me to viscerally feel the battle between opposite forces, something, in this day and age, we are all suffering through. The struggle we face today is knocking all of us off balance, and everyone seems to be scrambling to regain their equilibrium. This search is the foundation for Seeking Balance, a new series of 8 paintings that explores the figure in order to find that point between extremes. Seeking Balance is a creative journey towards that place between extremes and a state of mind where balance exists. Every piece I finished helped me get closer to remaining in that place. Every piece is a testament to its existence on and off the picture plane. -Calvin Lai

Friday, June 10
Rule Gallery
Artist's reception, 10 6-8pm
Sandy Skoglund Outtakes. Since the 1970s - through the use of sculpture, installation, and conceptual photography - Sandy Skoglund has been known for her innovative work that combines elements of the everyday with fantasy. To create her surreal photographs, Skoglund constructs elaborate tableaux for the camera incorporating vibrant colors and a range of materials. Her photograph Revenge of the Goldfish is currently on view as part of Modern Women/Modern Vision: Works from the Bank of America Collection at the DAM through August 28, 2022.
Through July 23

Saturday, June 11
Walker Fine Art
Reception from 6-9 PM
ASCENT, celebrating 20 years of WFA's presence in Denver's art community. Supported by Dark Steele Gastro Arts and M.A.D. Live Jazz music

Friday, July 22
Walker Fine Art
Opening Reception, 5-8pm
Modus Operandi, featuring: Deidre Adams, Blair Vaughn-Gruler, Ben Strawn, Melana Bontrager, Laura Guese, and Melanie Grein. Every creator possesses a unique artistic language that works concurrently with their own medium and inspirations. MODUS OPERANDI presents artists who utilize this dialect to dictate the outcome of their work, allowing spontaneity, intuition and process to be the driving forces in their creations. Working within their own subconscious and guidelines, these artists focus on the creative process rather than the end result, thus finding freedom in the journey.
Through September 10

Friday, June 24
William Havu Gallery
Opening reception, 5-8pm
Water Cycle, an exhibition by painters, Lynn Boggess and Jivan Lee.
A plein air landscape painter from West Virginia, Lynn Boggess braves the weather of all seasons, armed with canvases and cement trowels for brushes, to capture the beauty of nature in his unique landscapes. Lynn continues to live and work in West Virginia. Jivan Lee is an oil painter based in Taos and Santa Fe, NM. His work explores the nature of paint as raw material, creator of image, and catalyst for emotional response, and is increasingly addressing the complexities of how humans see and shape their environment.
Through August 30

Gallery 1261
Artist's Reception, 6-8 PM
Solo exhibition of paintings by Ulrich Gleiter. This collection of recent works has been created from a variety of locations including France's Burgundy, Spain's Andalucia, the beautiful architectural historic towns of Portugal`s Alentejo, and the northern lands of Karelia, Finland, and Sweden. The German-born artist studied first at the Dresden Academy of Fine Arts in Germany and later at the Repin Academy of Fine Arts in Saint Petersburg, Russia. His internationally collected work has been recognized with top awards in the USA and Russia, and has been featured in numerous publications and magazines. Currently, Gleiter lives and works in Germany and Burgundy, France.
Through July 15

Robischon Gallery
Reception for the artists, 6-8pm
Solo Exhibition: Ana Maria Hernando "Geometrias Tiernas,"Sculptural Works And Installation. Concurrently On View: Jonathan Parker- Constructed Painting, Don Voisine -Painting, Jim Osman - Sculpture David Fought - Sculpture Amy Ellingson - Painting and Drawing
Through August 13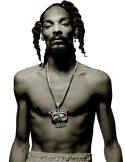 Gallery M
Albert Watson
Snoop Dogg, 1992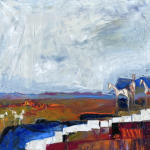 Saks Galleries Cherry Creek
Faye Crowe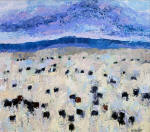 Visions West Contemporary
Theodore Waddell
Stillwater Angus #5, 2022
oil and encaustic on canvas
48 x 54 inches
Through July 9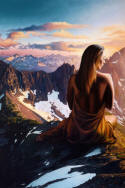 Abend Gallery
Austin Howlett
One Hundred Years, 2022
Oil on Artefex panel,
15 x 10 inches
Through July 1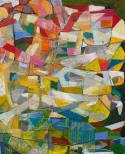 Space Gallery
Michael Hedges
The Weight Of Trouble
Oil On Canvas, 64"X52"
Through August 20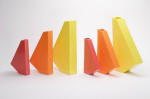 Plinth Gallery
Lauren Owens
Ceramic
Through July 30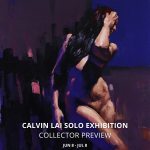 Abend Gallery
Calvin Lai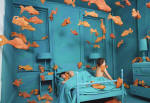 Rule Gallery
Artist's reception, 10 6-8pm
Sandy Skoglund Outtakes
Through July 23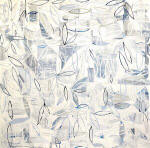 Walker Fine Art
Blair Vaughn-Gruler
Through September 10




William Havu Gallery
Lynn Boggess
June 6, 2020
Oil on canvas, 46 x 40 inches
Through August 30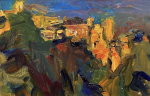 Gallery 1261
Ulrich Gleiter
In Italy by Night
Oil on linen,
14 x 18 1/2 inches
Through July 15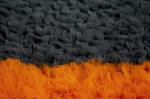 Robischon Gallery
Ana Maria Hernando
A Far Silent Sea/Swept Land (Detail)
Tulle and mixed media,
41 x 41 in.
Through August 13
Member Galleries:
---
Abend Gallery
David B. Smith Gallery
David Cook Fine Art
Gallery 1261
GALLERY M
K Contemporary
Mai Wyn Fine Art
Michael Warren Contemporary
Plinth Gallery
Plus Gallery
Robischon Gallery
Rule Gallery
Saks Galleries
Sandra Phillips Gallery
Space Gallery
Visions West Contemporary
Walker Fine Art
William Havu Gallery
William Matthews

---