Note: Many of the member galleries will have special instructions for visiting the exhibits. Please call ahead.




---

October

---


Month of October:
Abend Gallery
The gallery is having 52 solo shows throughout the end of the year. View the entire show schedule here

GALLERY M
Georgia O'Keeffe, 1956 by Yousuf Karsh

Gallery 1261
Continuing online only
An Artist's Diary: Michael J. Lynch Solo Exhibition. The exhibition is online-only and is live on our website now. Please contact the gallery if you would like to set up an appointment to view select artworks in person. View the exhibition

Lynch paints nearly all of his smaller pieces from life and prefers to use these as a reference [rather than photographs] for his large studio paintings. He has taught countless outdoor painting classes in New Mexico, Arizona, Colorado, and California and has lectured extensively on Plein Air painting.

Saks Galleries Cherry Creek
Vistas of Our World
New works by gallery artists
Through October 31




Gallery 1261
Michael J Lynch
Pacific Surf at Twilight, 2020
Oil 18 x 28 in
View the exhibition


GALLERY M
Yousuf Karsh
Georgia O'Keeffe, 1956


Saks Galleries Cherry Creek
Walt Gonske
Chamisa in Bloom
9 x 12
Through October 31




Abend Gallery
Raymond Bonilla
Solo Exhibition
View the entire show schedule here


Abend Gallery
Megan Read
Solo Exhibition
View the entire show schedule here


Saks Galleries Cherry Creek
Ken Elliott
The Light in the World II
Through October 31


---


Friday, October 9
David B. Smith Gallery
Socially Distanced Opening Reception, 6-9pm ***No appointment necessary, facemask required for entry, maximum 10 people admitted at a time.
Booth B4, featuring work by: Laura Ball, Leon Benn, Justin Favela, Linda Lopez ,and Liz Nielsen. After months of quarantine and the cancellation of countless worldwide art events, David B. Smith Gallery is pleased to present a group exhibition featuring a selection of the artists and works that would have been featured in art fairs in 2020. Booth B4 will include new works by Laura Ball, Leon Benn, Justin Favela, Linda Lopez, and Liz Nielsen. Presented in the main gallery, Booth B4 turns misfortune into an experimental art fair-style presentation, complete with live storage and regular switch outs.
Through November 7


David B. Smith Gallery
Liz Nielsen
Window Landscape 2020
analog chromogenic photogram on Fujiflex, unique 37 x 74 in.
Through November 7



David B. Smith Gallery
Chris Oatey
Birds Eye View 2019
carbon on paper 36 x 27 in
Through November 7

---

November

---


Friday, November 13
Walker Fine Art
Opening, 5-8 pm
Begin Again, featuring: Laura Guese, Caprice, Pierucc, Liz Quan, Kevin Hoth, Danny Williams and Tony Holmquist. The turn of a new decade brought with it an intersectional crossroads unable to be ignored. We are on the cusp of change; how can we do better? As society shifts, as does the art world. These 5 artists featured in BEGIN AGAIN are inspired by healing, hope and wonder, aesthetically working within the realm of ripples and repetition to convey their messages in an array of mediums. We aspire to invoke a sense of thoughtful reflection, so as to begin again with positive action.
Through January 9



Walker Fine Art
Opening, 5-8 pm
Begin Again
Through January 9


---


GALLERY LISTINGS

---


Abend Gallery
Note our new address
1261 Delaware Street
Denver, CO 80204 map

303.355.0950 phone
800.288.3726 toll free

website: www.abendgallery.com

Hours: Tue-Sat 10-6, Sun 11am-4

Continuing:
The gallery is having 52 solo shows throughout the end of the year. View the entire show schedule here


---


David B. Smith Gallery
1543 A Wazee Sgtreet
Denver, CO 80202 map
phone: 303.893.4234
fax: 877.893.4234
<![if !vml]><![endif]>
website: http://davidbsmithgallery.com
Hours: Tues-Sat 12-6, and by appointment

Friday, October 9
Socially Distanced Opening Reception, 6-9pm ***No appointment necessary, facemask required for entry, maximum 10 people admitted at a time.
Booth B4, featuring work by: Laura Ball, Leon Benn, Justin Favela, Linda Lopez, and Liz Nielsen. After months of quarantine and the cancellation of countless worldwide art events, David B. Smith Gallery is pleased to present a group exhibition featuring a selection of the artists and works that would have been featured in art fairs in 2020. Booth B4 will include new works by Laura Ball, Leon Benn, Justin Favela, Linda Lopez, and Liz Nielsen. Presented in the main gallery, Booth B4 turns misfortune into an experimental art fair-style presentation, complete with live storage and regular switch outs.
Through November 7


---


David Cook Fine Art
Maggie Ross, Director
1637 Wazee Street
Denver, Colorado 80202 map

Phone: 303.623.8181

Website: www.davidcookfineart.com

Hours: 10:30 - 6:00 Tuesday through Saturday and by appointment

Exhibition to be announced


---

Gallery 1261 LLC
1261 Delaware Street
Denver, CO 80204 map

phone: 303.571.1261

website: www.gallery1261.com

Hours: Tue - Sat: 12-6pm

Continuing online only
An Artist's Diary: Michael J. Lynch Solo Exhibition. The exhibition is online-only and is live on our website now. Please contact the gallery if you would like to set up an appointment to view select artworks in person. View the exhibition

Lynch paints nearly all of his smaller pieces from life and prefers to use these as a reference [rather than photographs] for his large studio paintings. He has taught countless outdoor painting classes in New Mexico, Arizona, Colorado, and California and has lectured extensively on Plein Air painting.


---


GALLERY M
180 Cook St, Suite 101 map
Denver, CO 80206

phone: 303-331-8400
website: www.gallerym.com


Hours: By Appointment Daily, Tue-Sat.

GALLERY M specializes in 20th century photojournalism and social documentary. LIFE photojournalists including Alfred Eisenstaedt, Bourke-White, Carl Mydans, Ralph Morse and others are always on display and available.

Continuing:
FACT or FICTION: GALLERY M's 2020 summer group exhibition, virtually, visually and when personally collected carries you along the fragile path of what a visual distortion of reality means to our everyday lives. From the end of 1945 to today, master artists and contemporary leaders set the tone, untruths and truths alike. View the exhibit and Statue of Liberty, Harbor View, 1951 by Margaret Bourke-White. Freedom Reigns from Her Shimmering Light. Bourke-White's "Harbor View" as captured during one of her aerial flyovers remains a symbolic image for most. The Statue transcends for citizens and those aspiring a better life. From the LIFE archives, where moments in time were edited to stoke core, shared values.


---


K Contemporary
Doug Kacena Co-Owner / Director
1412 Wazee St , Denver, CO 80202 map
phone: 303-590-9800
cell: 720-296-7180

website: https://kcontemporaryart.com

Hours: Tuesday – Saturday, 12 pm – 6 pm or by appointment

Continuing:
Burnt Hair Spun Gold, a solo exhibition by Daisy Patton. A celebrated multi-disciplinary artist, Patton is currently based in Massachusetts, Daisy Patton continues her "Forgetting is so long" series with the solo exhibition, "Burnt Hair Spun Gold." This exhibition delves deeper into the topic of women and female relationships, which she defines broadly and inclusively. As part of her practice, Patton collects abandoned family photographs, enlarges them to life-size, and paints over them as a kind of re-enlivening, removing the individuals from their formerly static location and time.
Through October 24


---

Mai Wyn Fine Art
744 Santa Fe Drive
Denver, CO, 80204 map
phone: 303-893-4182

website: www.maiwyn.com
Hours: Hours: Thursday - Saturday 11-5, Sunday 12-4. Open 1st Fridays until 10pm丨3rd Fridays until 8pm and by appointment

Exhibition to be announced


---

Michael Warren Contemporary


Mike McClung and Warren Campbell, owners


760 Santa Fe Drive
Denver, CO 80204 map
gallery: 303-635-6255
cell:

303-667-2447

website: www.michaelwarrencontemporary.com

Hours: Tues-Sat 11am-6 pm or by appointment

Summer 2020
Online Programming 24/7


---


Plinth Gallery
Owner: Jonathan Kaplan
3520 Brighton Blvd
Denver, Colorado 80216 map
phone: 303-295-0717

website: www.plinthgallery.com

Hours: Thursday -Saturday, 12pm-5pm, and other times by appointment

Exhibition to be announced


---

Plus Gallery
Owner: Ivar Zeile
Private Dealer



website: www.plusgallery.com

Exhibition to be announced

---

Robischon Gallery
1740 Wazee St.
Denver, CO. 80202 Map
phone: 303.298.7788
fax: 303.298.7799
<![if !vml]>

<![endif]>
web: www.robischongallery.com

Hours: Tuesday - Saturday 11am to 6pm Mondays
by appointment. Adjacent Free Parking until 6pm

Exhibition to be announced

---

Rule Gallery
Valerie Santerli, Owner/Director
Rachel Beitz, Owner/CFO
808 Santa Fe Drive. map
and
204 E San Antonio St,
Marfa TX

phone: 303-800-6776



website: https://rulegallery.com

Denver hours: Tues-Friday 12-6pm, Saturday 12-5pm and by appointment

Continuing:
Matthew Larson, Lo-Fi, introducing his latest series of fiber-based works that, as means to assert a distinct visual language, operate in a fluid space between drawing, sculpture, and weaving. Continuing the practice of utilizing "low materials," the artist meticulously and compulsively secures individual strands of yarn into sheets of 'hook' velcro stretched over board. The first strand of yarn placed determines the form of the entire piece as the work progresses, although improvisation may be introduced into a composition through manipulating the tension of the yarn. Works intended to appear similar will inevitably diverge as slight differences accrue through the application of hundreds of strands.
Through November 7

---

Saks Galleries Cherry Creek
Mikkel & Catherine Saks, owners
3019 East Second Ave
Denver, CO 80206 map
phone: 303-333-4144



website: www.saksgalleries.com

Hours: Tues-Friday 10am-5pm, Saturday 10am - 4pm and by appointment. Exhibitions year- round.
view the Saks Galleries Cherry Creek videos

Continuing:
Animals in Art Exhibition
View exhibit online

Continuing:
The McKenney-Hall Indian Gallery.
Thomas McKenney was appointed Superintendent of Indian Affairs in 1916 by President James Madison. He championed Native American causes for the next several decades at a time when tribal culture was often on a collision course with land-hungry whites and the U.S. Government. McKenney worked tirelessly on his Indian Gallery, a collection of artifacts and portraits of the visiting Indians by the famous painter Charles Bird King. However, in 1830, McKenney was dismissed by President Jackson -- they had quarreled about the removal of the Cherokee from their homeland. McKinley had also battled with a Congressional committee investigating his expenditure of $3,100 for the Indian portraits. Therefore, it was on his own that he launched a project to publish a series of large portfolios with hand-colored lithographs made after King's original paintings. More information
---

Sandra Phillips Gallery
Gallery Owner: Sandra Phillips
47 W. 11th Avenue, Denver. Colorado 80204 map
phone: 303 931-2991



website: www.thesandraphillipsgallery.com

Hours: Tues. - Sat. 12:30 - 5 Sun. and evenings available by appointment

Continuing:
View the exhibition online
Anna Kaye solo show, Heatwave. This exhibit of drawings, paintings, and video explore the relationship between Western coniferous forests and their wildfires. Anna Kaye is founder of the Pink Progression activist exhibits throughout metro Denver and teaches drop-in drawing at the Denver Art Museum.
Through October 25

---

Space Gallery
765 Santa Fe Drive Map
Denver, 80204
phone: 720-904-1088



website: www.spacegallery.org
Hours: Wed-Sat 1pm-6pm or by appointment

Continuing:
Satellite Space, 3235 Larimer | RiNo from 3-6pm
'Crush Walls', the huge outdoor mural festival, is happening all this week in the RiNo Art District. If you are out and about checking out the amazing diversity of talented artists and murals please stop by and check out our inaugural exhibit featuring Patricia Aaron.

---

Tansey Contemporary
1743 Wazee Street Suite 150
Denver. 80203 map
phone: 720-596-4243



website: www.tanseycontemporary.com
Hours: Tues-Saturday 11am - 5pm

Exhibition to be announced

---

Visions West Contemporary
Director: Nikki Todd
2605 Walnut St.
Denver, CO 80205 map
phone: 303.292.0909



website: www.visionswestgallery.com
hours: Tuesday-Saturday 10-6 pm or by appointment

Continuing:
June Glasson, new works. Starting in 2008 in Berlin, June Glasson began staging photoshoots as source material for her paintings. Glasson encouraged the models to engage in "unladylike" behavior, to bring props and costumes, and to be actively involved in their self-presentation. In 2010, she moved to Laramie, Wyoming and continued to stage these photoshoots and found the models often brought firearms, antlers, and campy western costumes. From this, Glasson began to be influenced by living in Wyoming, and by myths about the American West.
Through October 21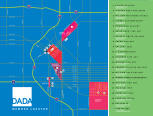 DADA Members map
click to enlarge

printable version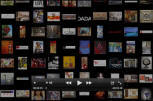 DADA video on
YouTube
or view the video here
More info / Continuing
1
Gallery Calendar:
Continuing exhibits:
October
November


DADA Members Map
Member Galleries:
---
Abend Gallery
David Cook Fine Art
Gallery 1261
GALLERY M
K Contemporary
Mai Wyn Fine Art
Michael Warren Contemporary
Plinth Gallery
Plus Gallery
Robischon Gallery
Saks Galleries
Sandra Phillips Gallery
Space Gallery
Visions West Contemporary
Walker Fine Art
William Havu Gallery
William Matthews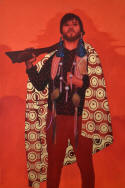 Visions West Contemporary
June Glasson, new works
Through October 21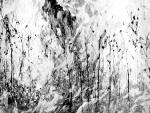 Sandra Phillips Gallery
Anna Kaye
Heatwave
charcoal/paper 54 x 49"
Through October 25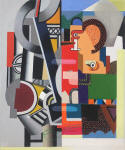 William Havu Gallery
Bob Knox
The Pipe Smoker
Acrylic on canvas, 38 32 in
Through November 17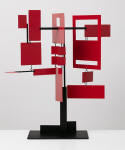 William Havu Gallery
Robert Delaney
PD 16
Painted steel,
14 x 13 1/2 x 13 1/2 in
Through November 17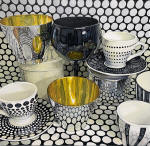 William Havu Gallery
Jeanette Pasin Sloan
Light V
oil on panel, 36 x 36 in.
Through November 17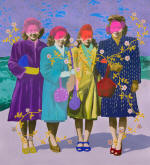 K Contemporary
Daisy Patton
Untitled (M L Ruby Chen Joyce Kwok C L)
80"x72"
Through October 24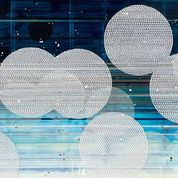 K Contemporary
Nina Tichava
You Are A Light Series
24 x 60 in.
Through October 24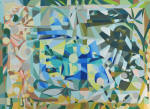 Walker Fine Art
Opening, 6-8 pm
Land Lines exhibition
View the press release
Through November 7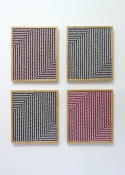 Rule Gallery
Matthew Larson
Zee 1 - 4, 2020
acrylic fiber on velcro, linen on panel in wood frame, 18 x 16 inches each
Through November 7
---

Walker Fine Art
The Prado Building, 300 West 11th Avenue (at Cherokee)
Denver, CO 80204 In the Golden Triangle Map
phone: 303.355.8955



website: www.walkerfineart.com
hours: Tues-Sat 11am-5 pm or by appointment

Explore all the gallery exhibits and view informative videos

Continuing:
Begin Again, featuring: Laura Guese, Caprice, Pierucc, Liz Quan, Kevin Hoth, Danny Williams and Tony Holmquist. The turn of a new decade brought with it an intersectional crossroads unable to be ignored. We are on the cusp of change; how can we do better? As society shifts, as does the art world. These 5 artists featured in BEGIN AGAIN are inspired by healing, hope and wonder, aesthetically working within the realm of ripples and repetition to convey their messages in an array of mediums. We aspire to invoke a sense of thoughtful reflection, so as to begin again with positive action.
Through January 9

Continuing:
Land Lines, featuring: Heather Patterson, Ellen Moershel, Christopher Warren, George Kozmon, Ben Strawn and Chris Hassig. The world's most beautiful places are rarely flat, and the same notion can be applied to artwork. Using the land's profundity as inspiration, these six artists expand on the ancient art of mapmaking, bringing forth their unique artistic and emotional representations evoked by the geography and movements of the natural world. Through painting, etching, drawing & three-dimensional installation, the artists of LAND LINES provide a contemporary spin on traditional cartography. View the press release

Through November 7

Continuing video links:
Walker Fine Art is launching a new video series, Collector - Artist Dialogue, featuring a conversation between a collector and an artist who share personal thoughts and feelings about one piece of art. Beginning this series is Gallery Manager, Libby Garon, who speaks to her deep connection with painting, Blush Nebula by Ana Zanic. Ana responds to Libby with her inspiration behind the painting. Click the links to watch this video and more Instagram , or catch all our videos on YouTube or Facebook.

---

William Havu Gallery
1040 Cherokee Map
Denver, CO. 80204
phone: 303.893.2360



website: www.williamhavugallery.com

Hours: Tue - Fri 10-6 PM, Sat 11-5 PM, Sun and Mon by appointment only
Voted Westword's best gallery for contemporary art of the region, 2017

Note: Due to the virus safe recommendations, the front door will be locked at all times. Please knock (or if necessary) call to let us know you are here. Appointments are strongly encouraged. Please call or email us ahead of time.

Continuing:
Exhibition of works by Jeanette Pasin Sloan, Bob Knox and Robert Delaney. Viewings by Appointment on Friday, September 18th & Saturday 19th. To RSVP Reply to this email or call 303-893-2360
Through November 17

---

William Matthews Gallery
Owner: William Matthews
Great Basin Studio
2540 Walnut St,
Denver, CO 80205 map
phone: 303-534-1300




Hours: Tuesday & Thursday 10 am - 5 pm or by appointment
website: williammatthewsstudio.com

Continuing:
Isolation has been very productive! We have some exciting new paintings to share To arrange a safe and socially distanced visit, contact Becky directly, 303-246-0825 becky@williammatthewsstudio.com
---