Note: Many of the member galleries will have special instructions for visiting the exhibits. Please call ahead.




---

May:

---


Friday, May 6 and 20
1st and 3rd Friday Openings at participating galleries


---


For the month of May
Plinth Gallery
Opening reception, 6-9pm
Ceramic Works by Virginia Scotchie. Her ceramics are characterized by engaging forms with highly textured and bold colored surfaces. Referencing the concept of vessel, her ceramic pieces expand on the thematic nature of the vessel, transporting them into abstract yet highly relatable forms. Their, colorful and richly textured surfaces appeal to touch and feel.
Through May 28

Saks Galleries Cherry Creek
Continuing: Current works and exhibits with gallery artists

GALLERY M
This month at the gallery, Damien Hirst's contributions to fine contemporary art are documented and reflected with each iteration of his butterfly series. From one-of-a-kind original works to small editions, the Butterfly is synonymous with Hirst. His contributions inspired other genres like Fashion to further reference the elegance, love, and respect associated with this harmonious animal.



Saks Galleries Cherry Creek
Peggy McGiveren
Gossip
oil, 16 x 16 inches


GALLERY M
Damien Hirst
Signed, Silkscreen with Foil


---


Wednesday, May 4
Abend Gallery
Contemporary Storytelling, a two person exhibition by Zoa Ace and Louis Recchia. The artist couple, Zoa Ace and Louis Recchia, have long influenced each other's artwork, yet each maintains their own unique style. This body of work invites the viewers' interpretations of their figurative narratives. They both like the idea of "art about art" mixing historical references, times, and styles in their oil on canvas paintings. view the exhibit online
Through June 6




Abend Gallery
Zoa Ace
City Sidewalk, 2022
Oil on canvas 40 x 40
Through June 6




Abend Gallery
Louis Recchia In the Park, 2022 Oil on canvas 40 x 48
Through June 6


---


Friday, May 6
William Havu Gallery
Order of Disappearance, a solo exhibition by renowned Denver painter, Amy Metier and on the mezzanine we are introducing Ohio based artist, Melinda Rosenberg. Amy Metier states that, "The work in this show has been inspired by my time painting at the Ballinglen Arts Foundation, an artist's residency in County Mayo, Ireland. Some paintings are influenced by a specific place; others respond to the light, the changing weather, the history, the ancient spirits and the mystery that infused my time and experience there. Each painting develops intuitively and the process invariably involves reworking, visibly painting out areas, even completely starting over to meet an elusive end goal that exists in my subconscious." Melinda Rosenberg paints, cuts, and "folds" found wood to create abstract wall installations that intersect painting and sculpture. The artist's process begins with collecting scraps of wood found in old barns and lumber yards throughout rural Ohio. Rosenberg then repurposes and alters the wood by painting directly on its surface before sanding, cutting, and adjoining the various pieces together. The result is an origami-like construction where divergent pieces of wood meet in an unexpected, yet harmonious balance.
Through June 18


Space Gallery
Artist talk 6pm

Featuring new work by: Noelle Phares and Philip Tarlow

Exhibition through May 28

Plinth Gallery
Ceramic Works by Virginia Scotchie. Her ceramics are characterized by engaging forms with highly textured and bold colored surfaces. Referencing the concept of vessel, her ceramic pieces expand on the thematic nature of the vessel, transporting them into abstract yet highly relatable forms. Their, colorful and richly textured surfaces appeal to touch and feel.
Through May 28




William Havu Gallery
Amy Metier
In Order of Disappearance
Mixed media on canvas,
72 x 60 inches
Through June 18


William Havu Gallery
Melinda Rosenberg
Pitch 16
Ash, barn wood, pine, painted chip board
20 x 22 x 7 inches
Through June 18


Plinth Gallery
Virginia Scotchieer
Ceramic
Through May 28




Space Gallery
Noelle Phares
Strawberry
Oil, gouache, and acrylic on panel, 61.5"X49.5"


T

hrough May 28


Space Gallery
Philip Tarlow,

12/30/202

Oil collage on portrait linen, 34"X38"
Through May 28

---


Wednesday May 11
Abend Gallery
A solo exhibition by Victoria Novak. View the online exhibit
Through June 11



Abend Gallery
Victoria Novak
Diversity, 2020
Oil on canvas 31.50 x 47.20 in
Through June 11


---


Thursday, May 12

Walker Fine Art
12 Pm
Toast spring with us during our mimosa happy hour followed by artist talks from 1-2:30pm.


---


Friday, May 13 and 14
Walker Fine Art
Opening receptions, Friday, May 13, 5-8 pm + Saturday, May 14, 11am-5pm
Casting Currents, featuring: Ana Žanić, Allison Svoboda, Bonny Lhotka, Danny Williams, Patricia Finley, and Sharon Strasburg.
It is fascinating, inspiring and reflective; it is pure and tranquil while simultaneously tempestuous and forbidding. It is impossible to control, unreliable and marvelously mysterious. It is water, and it is the creative source of expression for the six artists in CASTING CURRENTS. Whether utilizing it as a medium itself, finding inspiration in simply viewing it, or looking to its depths for further meaning, this group exhibition explores the fluidity, symbolism and representation of our life source. Join us to explore connections between water and artwork, as well as showcasing our harmonious relationships with the outside world.
Through July 16



Walker Fine Art
Ana Žanić
Through July 16


Walker Fine Art
Allison Svoboda
Through July 16


Walker Fine Art
Danny Williams
Through July 16




Walker Fine Art
Sharon Strasburg
Through July 16


Walker Fine Art
Bonny Lhotka
Through July 16


Walker Fine Art
Patricia Finley
Through July 16

---


Saturday, May 14
Gallery 1261
Jill Soukup, Artist''s demonstration, 2-3 pm



Gallery 1261
Jill Soukup, Artist''s demonstration, 2-3 pm


---


Friday, May 27
Visions West Contemporary
Opening reception
Theodore Waddell, solo show of new works on paper and recent oils. His depictions of the vast landscape, horses, and cattle are not typical of most Western art due to the influence of the abstract expressionist movement on his practice. Waddell's solo exhibition will include the monumental painting Vincent's Angus #4,1995, as well as works on paper and recent oil paintings.
Through July 8



Visions West Contemporary
Theodore Waddell
Vincent's Angus #4, 1995
Through July 8

---


EXHIBIT LISTINGS:

---


Abend Gallery
1261 Delaware Street
Denver, CO 80204 map

303.355.0950 phone
800.288.3726 toll free

website: www.abendgallery.com

Hours: Tue-Sat 10-6, Sun 11am-4

Continuing:
Online only exhibit
Ed Fairburn is an English artist based in Cardiff, Wales, whose ability to combine the geography of our facial features with the geography of the earth leads to a startling and compelling synthesis of the two. Fairburn has become known in Europe for his evocative portraits, which produce complex human features from the apparently random patterns found in mundane topographical and astrological maps
Through April 16

Continuing:
A solo exhibition by Jess Wathen,
Online only exhibit
Through May 13

Continuing:
A solo exhibition by Dave Seeley.

Through May 20

Wednesday, May 4
Contemporary Storytelling, a two person exhibition by Zoa Ace and Louis Recchia. The artist couple, Zoa Ace and Louis Recchia, have long influenced each other's artwork, yet each maintains their own unique style. This body of work invites the viewers' interpretations of their figurative narratives. They both like the idea of "art about art" mixing historical references, times, and styles in their oil on canvas paintings. view the exhibit online
Through June 6

Wednesday May 11
A solo exhibition by Victoria Novak. View the online exhibit
Through June 11


---


David B. Smith Gallery
1543 A Wazee Sgtreet
Denver, CO 80202 map
phone: 303.893.4234
fax: 877.893.4234
<![if !vml]><![endif]>
website: http://davidbsmithgallery.com
Hours: Tues-Sat 12-6, and by appointment

Continuing:
Hangama Amiri Henna Night/Shabe Kheena. In this new body of work, Amiri sensitively explores the complex interior landscapes of domestic spaces. Through imagery that honors close bonds and togetherness, she places particular emphasis on women within these spaces, a subtle form of resistance against the reality of limited rights and visibility of women in Afghanistan under Taliban rule. Amiri's piercingly tender textile works focus on passage from room to room within the home, emblematic of transitions through life, and the family rituals and traditions that take place there
Through June 18


---


David Cook Fine Art
Maggie Ross, Director
1637 Wazee Street
Denver, Colorado 80202 map

Phone: 303.623.8181

Website: www.davidcookfineart.com

Hours: 10:30 - 6:00 Tuesday through Saturday and by appointment

Exhibition to be announced


---

Gallery 1261 LLC
1261 Delaware StreetP
Denver, CO 80204 map



phone: 303.571.1261

website: www.gallery1261.com

Hours: Tue - Sat: 12-6pm

Continuing:
Jill Soukup's solo exhibition, Accelerated Calm. View online "There is an exquisite pause in the intersection of fundamentally different elements, circling each other in a dance of opposition and communion. The juxtaposition of an active adjective, like "accelerated," for instance, and a quiet one, like "calm," explores conceptual contrast, inviting insight and introspection. This body of work reflects the personal calm I experienced when visiting the ranch. It is a reminder of the simpler things, a return to roots and the earth, an embrace of time suspended in the gentle sway of a horse and little else. It's a whispered confidence in peaceful places and spaces to come". - Jill Soukup
Through May 14

Saturday, May 14
Artist Demonstration, 12-3 pm


---


GALLERY M
180 Cook St, Suite 101 map
Denver, CO 80206

phone: 303-331-8400
website: www.gallerym.com


Hours: By Appointment Daily, Tue-Sat.

GALLERY M specializes in 20th century photojournalism and social documentary. LIFE photojournalists including Alfred Eisenstaedt, Bourke-White, Carl Mydans, Ralph Morse and others are always on display and available
.
Month of May
Damien Hirst's contributions to fine contemporary art are documented and reflected with each iteration of his butterfly series. From one-of-a-kind original works to small editions, the Butterfly is synonymous with Hirst. His contributions inspired other genres like Fashion to further reference the elegance, love, and respect associated with this harmonious animal.


---


K Contemporary
Doug Kacena Co-Owner / Director
1412 Wazee St , Denver, CO 80202 map
phone: 303-590-9800
cell: 720-296-7180

website: https://kcontemporaryart.com

Hours: Tuesday ? Saturday, 12 pm ? 6 pm or by appointment

Exhibition to be announced


---

Mai Wyn Fine Art
744 Santa Fe Drive
Denver, CO, 80204 map
phone: 303-893-4182

website: www.maiwyn.com
Hours: Hours: Thursday - Saturday 11-5, Sunday 12-4. Open 1st Fridays until 10pm丨3rd Fridays until 8pm and by appointment

Exhibition to be announced


---

Michael Warren Contemporary


Mike McClung and Warren Campbell, owners


760 Santa Fe Drive
Denver, CO 80204 map
gallery: 303-635-6255
cell:

303-667-2447

website: www.michaelwarrencontemporary.com

Hours: Tues-Sat 11am-6 pm or by appointment

Spring 2022
Online Programming 24/7


---


Plinth Gallery
Owner: Jonathan Kaplan
3520 Brighton Blvd
Denver, Colorado 80216 map
phone: 303-295-0717

website: www.plinthgallery.com

Hours: Thursday -Saturday, 12pm-5pm, and other times by appointment

Friday, May 6
Ceramic Works by Virginia Scotchie. Her ceramics are characterized by engaging forms with highly textured and bold colored surfaces. Referencing the concept of vessel, her ceramic pieces expand on the thematic nature of the vessel, transporting them into abstract yet highly relatable forms. Their, colorful and richly textured surfaces appeal to touch and feel.
Through May 28


---

Plus Gallery
Owner: Ivar Zeile
Private Dealer



website: www.plusgallery.com

Exhibition to be announced

---

Robischon Gallery
1740 Wazee St.
Denver, CO. 80202 Map
phone: 303.298.7788
fax: 303.298.7799
<![if !vml]>

<![endif]>
web: www.robischongallery.com

Hours: Tuesday - Saturday 11am to 6pm Mondays
by appointment. Adjacent Free Parking until 6pm
Continuing:
Reception for the Artists, 6 – 8 pm
Concurrent Solo Exhibition with artists: Barbara Takenaga, Omar Chacon and also featuring Jae Ko and Linda Fleming.
Through June 11

---

Rule Gallery
808 Santa Fe Drive
Denver, CO 80204 Map
phone: 303-800-6776
<![if !vml]>

<![endif]> info@rulegallery.com
web: www.rulegallery.com

Continuing:
Martha Hughes exhibit, Above Beyond. In her latest series of large-scale oil paintings, Martha Hughes utilizes vibrant color combinations and asymmetrical forms to envelop the viewer, creating new spaces, perspectives, and narratives. Meticulous brushstrokes of explosive yellows, greens, blues, and pinks reverberate against the hard lines, edges, and angles of geometric shapes. Color and form are in constant conversation, creating a complex tension between exterior and interior, lightness and weight, play and precision, independence and coexistence.
Through June 4

---

Saks Galleries Cherry Creek
Mikkel & Catherine Saks, owners
3019 East Second Ave
Denver, CO 80206 map
phone: 303-333-4144



website: www.saksgalleries.com

Hours: Tues-Friday 10am-5pm, Saturday 10am - 4pm and by appointment. Exhibitions year- round.
view the Saks Galleries Cherry Creek videos

Continuing:
Current works and exhibits with gallery artists

Continuing:
The McKenney-Hall Indian Gallery.
Thomas McKenney was appointed Superintendent of Indian Affairs in 1916 by President James Madison. He championed Native American causes for the next several decades at a time when tribal culture was often on a collision course with land-hungry whites and the U.S. Government. McKenney worked tirelessly on his Indian Gallery, a collection of artifacts and portraits of the visiting Indians by the famous painter Charles Bird King. However, in 1830, McKenney was dismissed by President Jackson -- they had quarreled about the removal of the Cherokee from their homeland. McKinley had also battled with a Congressional committee investigating his expenditure of $3,100 for the Indian portraits. Therefore, it was on his own that he launched a project to publish a series of large portfolios with hand-colored lithographs made after King's original paintings. More information
---

Sandra Phillips Gallery
Gallery Owner: Sandra Phillips
47 W. 11th Avenue, Denver. Colorado 80204 map
phone: 303 931-2991



website: www.thesandraphillipsgallery.com

Hours: Tues. - Sat. 12:30 - 5 Sun. and evenings available by appointment

Exhibition to be announced

---

Space Gallery
765 Santa Fe Drive Map
Denver, 80204
phone: 720-904-1088



website: www.spacegallery.org
Hours: Wed-Sat 1pm-6pm or by appointment

Continuing:
Featuring New Work By:
Noelle Phares And Philip Tarlow. Noelle Phares brings a fresh perspective into her contemporary landscape paintings through examination of the tension between organic and synthetic. As an environmental scientist by training, she allows the same topics that drove her work in the natural sciences to now guide her creative endeavors. This new work integrates a number of directions and styles I've experimented with over time. Abstraction and realism join, and elements of collage disrupt predictability, allowing the viewer to create their own interpretation of each composition, and return again and again to a new experience. Philip writes, "Recently, I had a very challenging health scare. When I learned that my sight would be saved through the ground breaking surgery performed by Dr. Seibold, once again I felt like I could fly! Thus the title: I FLY, with the subtitle in Greek: PETAOW. As a gesture of gratitude, this exhibition is a benefit, with a large portion of sales going to the University of Colorado Dept of Ophthalmology, where it will support research.
Through May 28
Friday, May 6
Artist talk 6pm
Featuring new work by: Noelle Phares and Philip Tarlow
Exhibition through May 28

---

Visions West Contemporary
Director: Nikki Todd
2605 Walnut St.
Denver, CO 80205 map
phone: 303.292.0909



website: www.visionswestgallery.com
hours: Tuesday-Saturday 10-6 pm or by appointment

Continuing:
Not Your Average Bear, a group exhibition exploring the bear in contemporary art. The bear has a rich history in art representing a wide range of myths, legends, and cultural beliefs. The exhibition features national and international artists presenting and exploring the image of the bear in exciting and unique ways through painting, sculpture, ceramic, photography, and fiber art. With artists: Electric Coffin, Bryan Christiansen, Johnny Defeo, Rachel Denny, Dean Drever, Bayard Hollins, Adonna Khare, Abbey Kuhe, Debbie Lawson, Julia Lucey, Robert McCauley, Taylor Robenalt, George Rodriguez, Molly Sculps, Austin Taylor, and Travis Walker
Through May 21

Friday, May 27
Opening reception
Theodore Waddell, solo show of new works. Theodore Waddell's depictions of the vast landscape, horses, and cattle are not typical of most Western art due to the influence of the abstract expressionist movement on his practice. Waddell's solo exhibition will include the monumental painting Vincent's Angus #4, 1995, as well as works on paper and recent oil paintings.
Through July 8

---


Walker Fine Art
The Prado Building, 300 West 11th Avenue (at Cherokee)
Denver, CO 80204 In the Golden Triangle Map
phone: 303.355.8955



website: www.walkerfineart.com
hours: Tues-Sat 11am-5 pm or by appointment

Explore all the gallery exhibits and view informative videos
Continuing video links:
Walker Fine Art is launching a new video series, Collector - Artist Dialogue, featuring a conversation between a collector and an artist who share personal thoughts and feelings about one piece of art. Beginning this series is Gallery Manager, Libby Garon, who speaks to her deep connection with painting, Blush Nebula by Ana Zanic. Ana responds to Libby with her inspiration behind the painting. Click the links to watch this video and more Instagram , or catch all our videos on YouTube or Facebook.

Continuing:
Wild Narratives, featuring: Sammy Lee, Angela Beloian, Kevin Hoth, Meagen Svendsen, Don Quade, and Gavin Benjamin. Each season carries its own beauty, and as we move forward into the year, Spring is blooming in the gallery! Nature is a broad source of inspiration for these 6 artists who have centered focus on their personal worlds to find flourishing inspiration in their search for home, heart and solace. Through sculpture, photography, oil painting and mixed media, the artists in WILD NARRATIVES address concepts of abundance, persistence, belonging, evolution and experimentation. view online
Through May 7
Thursday, May 12
12 Pm
Toast spring with us during our mimosa happy hour followed by artist talks from 1-2:30pm.

Friday, May 13 and 14
Opening receptions, Friday, May 13, 5-8 pm + Saturday, May 14, 11am-5pm
Casting Currents, featuring: Ana Žanić, Allison Svoboda, Bonny Lhotka, Danny Williams, Patricia Finley, and Sharon Strasburg.
It is fascinating, inspiring and reflective; it is pure and tranquil while simultaneously tempestuous and forbidding. It is impossible to control, unreliable and marvelously mysterious. It is water, and it is the creative source of expression for the six artists in CASTING CURRENTS. Whether utilizing it as a medium itself, finding inspiration in simply viewing it, or looking to its depths for further meaning, this group exhibition explores the fluidity, symbolism and representation of our life source. Join us to explore connections between water and artwork, as well as showcasing our harmonious relationships with the outside world.
Through July 16

---

William Havu Gallery
1040 Cherokee Map
Denver, CO. 80204
phone: 303.893.2360



website: www.williamhavugallery.com

Hours: Tue - Fri 10-6 PM, Sat 11-5 PM, Sun and Mon by appointment only
Voted Westword's best gallery for contemporary art of the region, 2017

Note: Due to the virus safe recommendations, the front door will be locked at all times. Please knock (or if necessary) call to let us know you are here. Appointments are strongly encouraged. Please call or email us ahead of time.



Continuing:
Lay of the Land, an exhibition by husband and wife artists, Tracy Felix and Sushe Felix. On the mezzanine for Mo'Print (Month of Printmaking) is Winter Series, new linoleum cuts with collage by Betsy Margolius.

Friday, May 6
Order of Disappearance, a solo exhibition by renowned Denver painter, Amy Metier and on the mezzanine we are introducing Ohio based artist, Melinda Rosenberg. Amy Metier states that, "The work in this show has been inspired by my time painting at the Ballinglen Arts Foundation, an artist's residency in County Mayo, Ireland. Some paintings are influenced by a specific place; others respond to the light, the changing weather, the history, the ancient spirits and the mystery that infused my time and experience there. Each painting develops intuitively and the process invariably involves reworking, visibly painting out areas, even completely starting over to meet an elusive end goal that exists in my subconscious." Melinda Rosenberg paints, cuts, and "folds" found wood to create abstract wall installations that intersect painting and sculpture. The artist's process begins with collecting scraps of wood found in old barns and lumber yards throughout rural Ohio. Rosenberg then repurposes and alters the wood by painting directly on its surface before sanding, cutting, and adjoining the various pieces together. The result is an origami-like construction where divergent pieces of wood meet in an unexpected, yet harmonious balance.
Through June 18

More info /
Continuing Exhibits
1
May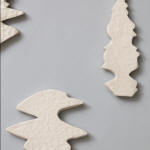 Walker Fine Art
Meagen Svendsen
Through May 7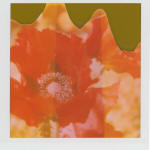 Walker Fine Art
Meagen Svendsen
Through May 7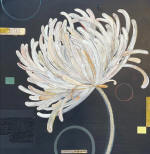 Walker Fine Art
Don Quade
Through May 7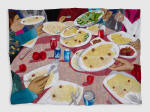 David B. Smith Gallery
Hangama Amiri Mehmani/Guests, 2022 Chiffon, muslin, cotton, polyester, silk, velvet, vinyl, ikat-print, suede, and found fabric 62 x 83 in.



Robischon Gallery
Barbara Takenaga
Upper Lower Case
acrylic on linen, 30 x 24 inches
Through June 11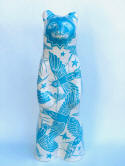 Visions West Contemporary
Abbey Kuhe
Mayflies and Swallows, 2022
Through May 21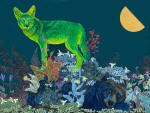 Visions West Contemporary
Julia Lucey
Sleeping Bear Mountain, 2022
mixed media collage, aquatint, etchings, and acrylic, 36 x 48 inches.
Through May 21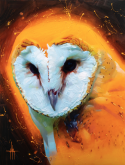 Abend Gallery
Jess Wathen
Flare, 2022
Oil on Ampersand claybord
16 x 12 x 2
Online only exhibit
Through May 13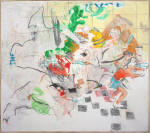 Space Gallery
Philip Tarlow
12/30/2021
Oil collage, oil and collage on portrait linen, 34"X38
Through May 28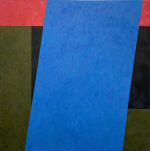 Rule Gallery
Martha Hughes
Untitled 1219, 2021
Oil on canvas, 72 x 72 inches.
Through June 4




Gallery 1261
Jill Soukup
White Duo, 2021
Oil on Canvas 33 x 28 in
Through June 4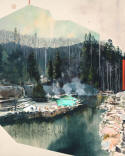 Space Gallery
Noelle Phares
Strawberry
Oil, Gouche, and acrylic on panel, 61.5 X 49.5 inches
Through May 28